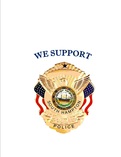 Dear Citizens and Neighbors:

The South Hampton Police Department is proud to serve the Community and citizens of South Hampton. We as officers realize that the Town has limited resources and it is often difficult to fund needed equipment and technological advances that would help us better serve you. The South Hampton Police Association was formed as a fundraising arm of the Police Department with the aim of filling the needs of the Department and the Community.
The South Hampton Police Association would respectfully ask for contributions to be sent to the South Hampton Police Association, P.O. Box 220, South Hampton, NH 03827. The South Hampton Police Association is a registered charity. We thank you in advance for any amount you care to give.
---

911 Reflective Address Signs



The Police Department in conjunction with the Friends of the South Hampton Library are offering 911 Reflective Address kits to residents for a donation of $10.00. These kits will enable emergency response personnel to easily find your house at any time day or night. Please remember that often out of town personnel maybe responding to an emergency and they will not be familiar with South Hampton. The kit includes a 6" x 10" reflective green aluminum plate. We will add the reflective numbers of your residence and you can either install it yourself or we can do it for you. The plates are usually put up on mail box posts, poles or objects close to the road. Please fill out the form below. Thank You.
---

The South Hampton Police Association will be selling South Hampton Car decals for $5.00. The decals should go on the back left hand side of the rear windshield. The decals will be available at the Police Station and the Town Hall. The cost of the decals goes towards equipment, medical supplies and programs sponsored by the South Hampton Police Department. Decals are available at the Police Station, Library and Town Hall. Thank You for your support.


---