Barnard School & the D.a.r.e. Program



DARE South Hampton

D.A.R.E. stands for Drug Abuse Resistant Education and I feel it is an important tool for teaching kids to make the right decisions. Dare is a program that makes students think about self-respect, alternatives to peer pressure and making good decisions.


---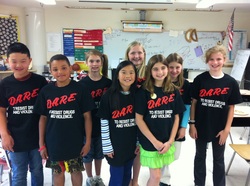 D.A.R.E. teaches kids how to recognize and resist the direct and subtle pressures that influence them to experiment with alcohol, tobacco, marijuana, and other drugs. And since between 70% and 90% of all crime is drug related, it is absolutely vital that we reach the children of America before it is too late.
The D.A.R.E. program is usually introduced to children in the 5th or 6th grade. A specially trained officer comes into your school and teaches the children. D.A.R.E. has launched a new elementary and a new middle school curriculum this year.
Here is the link to Dare NH State Police: http://www.nh.gov/safety/dare/


---