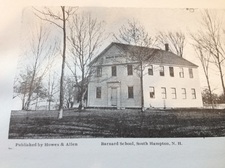 South Hampton History
South Hampton has had a somewhat tenuous existence. It was originally part of the Town of Salisbury (1638) and part of the northern boundary of that Salisbury Grant in Massachusetts. It abutted the Hampton Grant in Massachusetts, the boundary lines demarking the town grants being Shapley's line (1657) and Batchelder's Bound line (1640), which ended at the Hampton River at Bound rock. (Bound with an iron band around it).
The Town of Amesbury was split from Salisbury in 1668, the boundary line between the two being the Powow River.
In 1680, Hampton (1638) was established as a New Hampshire town. Hampton Falls was split off in 1702-1708 and a Seabrook section split from Hampton Falls in 1768 (an area approximately 1/3 of its present size).
After much bickering over boundaries, in 1741, The two General Courts of the two states moved the state's official boundary line southward to "three miles from the Merrimack River." This new state line was known as Mitchell's Line (1741). The Mitchell Line created more New Hampshire territory and less Massachusetts.Thus, South Hampton was born and chartered in 1742, its western boundary being the Line of 1742 which extended as far west as Rowes Corner (now in Newton). This was one of the first townships granted by
Colonial
Governor
Benning Wentworth
after the separation of
New Hampshire
from
Massachusetts
in
1741
. Its easterly boundary was the Atlantic Ocean from Bound rock to Major's Rock in Salisbury.
In its checkered history South Hampton has been reduced three times in size. In December 1742, 28 persons, in what is now South Seabrook , petitioned to be part of Hampton Falls. In 1749, 34 people with houses west of the Powow River, requested to be part of Newton. The action resulted in a jagged western border between newton and South Hampton.
In 1822, easterly residents petitioned to be split off and joined Seabrook which had been created in 1768. Thereby many acres of salt marsh along the seacoast were forfeited by neglect to Seabrook.
At one time, the town was home to over 12 different religious
sects
. One of South Hampton's only members of the New Hampshire State Senate was Benjamin Barnard, who served from
1806
-
1808
.
According to the
United States Census Bureau
, the town has a total area of 8.0
square miles
(20.7
km²
), of which, 7.9 square miles (20.4 km²) of it is land and 0.1 square miles (0.3 km²) of it is water, comprising 1.62% of the town. South Hampton is drained by the
Powwow River
, part of the
Merrimack River
watershed
. The highest point in town is
Sawyers Hill
(320
feet
/ 98
meters
above
sea level
), near the
Massachusetts
border.
Attractions in South Hampton include Heron Pond Farm and
Jewell Towne Vineyards
.
---